From the moment we step our foot into the online business world, the importance of lead magnets and email lists gets shoved down our throats. If you're not growing a list and leveraging your subscribers, how dare you? You're missing out!
So here we are, talking about how to grow your email list with a quiz.
They kind of have a point, though. In today's social media-centric world, your email list is the only marketing channel you own. Social media followers come and go, and most of them don't even see all your posts. When someone likes what you have to offer enough to let you into her already oversaturated inbox, it's something.
So we make it our mission to grow our lists and start launching freebies. Let's be honest, those PDFs rarely get used. I, for one, have a folder of unused freebies for "some time in the future when I have time". I'm sure you have one, too.
There is a fun and engaging way to attract your people and grow your list.
QUIZZES.
ding-ding-ding-ding!
I think we can all agree that quizzes are the bomb dot com, right? So fun! Everyone loves quizzes.
I'm no specialist on why exactly quizzes are so addicting but what I do know is that they hook people in. After all, when you take a quiz, you get the result immediately. It's instant gratification!
I also know that if you want to grow your email list, a fun quiz lead magnet is a great way to do it!
How to Grow Your Email List with A Quiz Lead Magnet
Why I love Interact quizzes
If you're reading this post, it's pretty safe to say you're very interested in building a list and you're looking for different ways to do it.
High five!
I too am committed to growing my list this year. However, I wanted to offer my readers and visitors something different and more fun besides regular freebies.
I built a lead generation quiz with Interact quiz builder.
There are other quiz builders out there, so why Interact? A quick Pinterest search introduced me to Interact quizzes made by other online service providers and I loved how fun, effortlessly chic, and appealing they all were. Experiencing them in action is what sold me.
Quizzes work great as a lead magnet.
My quiz idea* came straight from my first-hand experience of working as a Pinterest marketing strategist for women-led service-based businesses.
*Since rebranding recently, I'm working on bringing my quiz up to date.
I expected the content brainstorming process to be the hardest part of building a quiz. Not true! Once I had clarity on the initial idea it was easy to map out the results and questions. I started by creating an avatar of each of the three types and derived the questions and answers from there.
Ready to learn how you can grow your list with a quiz? You too can catch the attention of your audience with a fun, engaging lead-generating quiz and start boosting your list! I'll walk you through the process below.
This post contains affiliate links, which means if you click them and become a paying customer, I will receive a small commission (at no additional cost to you). I'm very selective about affiliation opportunities and will only ever recommend the tools I use and love. Interact is definitely one of them!
Creating a Lead Generation Quiz with Interact
Starting with a template or from scratch
When you start creating your quiz, you can choose between a template and building a quiz from scratch. You can also sort this page by quiz type.
Templates are pre-made quizzes, all ready to go. All you have to do is edit to fit your needs and publish – that's it!
Interact offers templates for different goals – audience research, lead generation, segmentation, knowledge testing, or just for fun so you're bound to find one for your needs.
If you're into building a custom quiz, you can choose "From Scratch". That's what I did. I already had my questions and results mapped out on paper so it was easier to start with a blank canvas. In fact, the whole process of setting up a quiz was so simple, quick, and painless.
When you start from scratch, you can choose your quiz type. Interact offers three types of quizzes: assessment (knowledge test), personality (a fun way to learn something about yourself), and scored (tallied answer scores).
You can also easily change the quiz type later.
In this post, I cover the process of making a personality quiz. According to Interact, personality quizzes are by far the most popular quiz type, holding nearly 80% of the market share of all quizzes created. Say what!
Setting up your lead magnet quiz
After you've selected your quiz type, you're taken to the quiz builder.
It's a blank canvas you can customize to your own needs. All the options for building your quiz are laid out for you in the left sidebar. In the lower half, you can set up your email list integration, conversion tracking, and social share settings.
You can edit the questions, answers, results, and cover page by clicking on an element in the sidebar. You can also reorder questions and answer choices.
Clicking on the little palette icon opens up a styling menu where you can edit the look of your quiz (font, button color, progress bar color, option color, etc). The capital "T" icon opens up a font selection menu, and the image icon lets you upload your logo. The logo will display in the bottom right corner.
Cover page
Your cover page should have a catchy title, a cover image, and a short description. I love that as you're building your quiz, Interact displays short and concise tips next to the quiz.
Most quiz titles follow the same template: "Which ____ are you?" or "What is your _____?". It should be short and catchy enough to make people want to take the quiz.
If you don't have your own cover image, you can search for license-free images within the Interact quiz builder. Using a random photo from Pinterest or Google could get you in trouble but these photos from Unsplash and Giphy are free for commercial use.
In the description, you can tell people what the quiz is about, who it is for, and give them a benefit to look forward to after they take the quiz (could be another free resource).
Also, make sure to customize the colors so your quiz is nicely branded and add a catchy call-to-action text!
When you're done you should have a complete cover page like this:
Add questions and answers
Next, it's time to write the questions. It's a good idea to plan your questions and options out beforehand. That way the process of typing out questions takes very little time.
I ask questions about the way she uses Pinterest and tried to keep the answers short, sweet and precise.
The cool thing about questions is that you can use an image for the question (between the question and answers) and in answers.
TIP: It's a good idea to make your quiz more visual by using photos or GIFs. People tend to prefer images over text, and images catch the eye so quiz takers are more engaged. When you're choosing the images, try to pick ones that are connected to the answer.
Create results
After the quiz taker has completed the questions, she's shown her personality type result page. Mine has 3 types but Interact recommends even 4-6 types.
Like everything else, result pages are customizable. Check out this example!
You can pop in a result title and image. Below the image add an explanation of what the result means. Interact also offers a call to action button which you can use to lead the quiz taker to a landing page or to a free resource that will benefit them. You can also hide the CTA button.
I recommend starting the quiz-creating process by typing out the results. Here's the process I used to make the quiz:
Develop personality types -> write results -> write questions and answer options -> result mapping
Connect questions and results
The last thing you should do in the quiz building phase is setting up your result correlations. In a personality quiz, each answer to a question correlates to at least one result (personality type). You can map the answers to the personalities by clicking on "Edit result correlations" in the question view.
Result scores are calculated by the software. All you need to do is connect the answers to the results. I love how simple and visual this process is.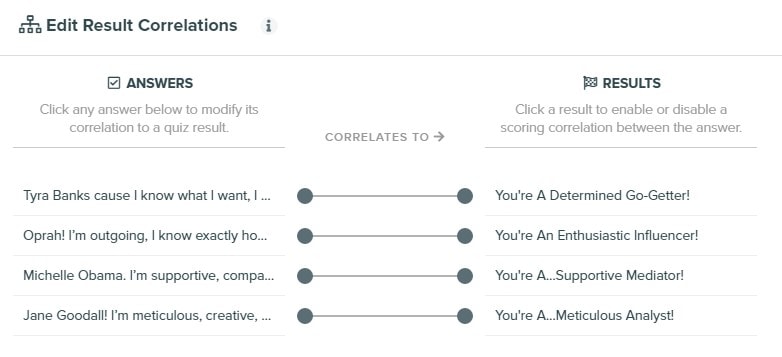 Connect your quiz to your email list
Woo, you're almost done and ready to grow your email list with a quiz! Email list integration is my favorite part.
Once you have finished creating your quiz, you can integrate with your email marketing provider and collect email addresses. What that means is that when the person has finished taking the quiz, they'll be prompted to give their name and email address in exchange for the result.
The information they give you will be added to your list and you can send them a sequence of value emails based on their result.
Although Interact's free plan lets you create quizzes to your heart's desire, lead generation is only available in the paid plan for $29 a month. In my opinion, it's so worth it if you're serious about growing your list and doing so in a fun and engaging way.
To set up lead generation, enable lead capture and data collection by toggling the on/off switch in the top left corner of your quiz setup. From there on the software guides you through setting up your email marketing. It's a ridiculously simple process.
Recommended reading: How to Build Your Email List Using Quizzes
TIP: set up your sequences and groups in your email marketing provider before starting the integration process!
You can customize the opt-in form that is displayed after the quiz has been completed. You can choose which contact info you want to collect and even create custom fields!
I recommend only asking for a name and email address, though. The more info you ask for, the more likely the quiz taker is to abandon the sign-up process and that is no bueno.
Another pro tip for you: enable opt-in skipping. Not everyone takes interest in the extra resources you're providing via email, that's a cold hard fact. Some people just want to read their results and then click away.
Forcing someone to join your list in order to get the result will make for an unengaged subscriber who'll either unsubscribe soon or sit there without opening and clicking. Those people are not very likely to become a buyer either. Even worse, they might abandon your quiz before getting to results! Ouch, that hurts.
Yes, you'll have a lower opt-in rate but the quality of your subscribers will rise because they actually liked your quiz enough to sign up for more! #yay
Interact supports a lot of email marketing programs, including popular ones like Flodesk, ConvertKit, MailerLite, MailChimp, and ActiveCampaign. You can even integrate Zapier if you're into making zaps.
Personally, I'm a Flodesk fan. Within Flodesk I segmented people into three groups by their results and created an automated sequence for each result to deliver more value and resources to them over the next week.
My quiz takers are segmented based on how ready their business is for implementing a Pinterest funnel.
Publish and promote your quiz
When you're happy with your brand spanking new quiz, have email marketing set up and automated sequences ready to go, it's time to publish the quiz and start promoting it!
Interact offers 6 promotion options:
Popup – you'll get the Javascript code to add to the header of your website. You can customize the look of the popup, the pages it will show on and set a delay.
Announcement bar – displays a call-to-action in a bar on top of your website. You can customize the look and copy of your quiz, as well as delay and display settings.
Facebook ad – a great way to introduce your quiz to a wider audience. With Facebook Pixel conversion set up, you can track the conversions of your quiz.
Embed – this option gives you the JavaScript or iFrame code to add to your website. Great for creating a quiz landing page, or adding your quiz to posts or newsletters.
Direct link – this is the direct URL of your quiz.
Social media – you can share your quiz on Facebook, Twitter, Linkedin or Google+ with a click of the button.
Recommended reading: How to Embed Your Quiz on Any Website
Here are some ways I'm promoting my quiz:
Pinterest (promoted) pins that lead to a landing page. I created a landing page specifically for the quiz without anything else on it, designed a few different graphics and created pins on Pinterest;
Facebook and Instagram posts and ads using custom audiences from my website (people who have shown interest in my business and content before) and specific targeting;
In strategic places on my website: embed quiz in posts, a call to action above the fold on high-traffic pages, resource library and vault, announcement bar, blog sidebar, landing page;
Posts in Facebook group promotion threads.
PSST! If you need a little guidance on what emails to send to your leads after they've signed up or how to promote your quiz, check out this guide from Interact! There's even a whole automated sequence mapped out for you!
Strategic quiz placement on your website
You've probably heard that if you aren't putting your signup forms in the right places on your website, you're missing out on signups. The same goes for quizzes that act as lead generation tools.
What works for someone else might not work for you so the only way to find out what works is to test it. It helps to put yourself in your visitor's shoes. How do they get on your site? How do they move on your site?
If you're looking for ideas on where to place your quiz, here's where I'm testing mine.
Pop-up
Popups are very controversial. People hate them, yet they yield great results for some people. Personally, I find no delay pop-ups and <20-second pop-ups incredibly annoying and unless I really really need something you have on your site, it will be a no from me, dawg. #exitclick
Same thing goes for my visitors. I know for a fact that a large part of my visitors come from Pinterest and land on a specific blog post. The last thing I want to do is bombard them with a pop up (quiz or not) the second they land on the page. They haven't even had a good look at my site yet! Bye, Felicia!
Instead, I've implemented a delayed pop-up on certain pages. This gives the visitor enough time to read the content before she's prompted with the option to take a quiz.
Top bar
The announcement bar is an unintrusive way to promote a quiz. The call to action is right there in your face when the page loads but it doesn't annoy you. To make sure it doesn't blend in with the rest of the site, use bright colors!
Resource library
For a lot of my visitors, the first place they land on my site is the resource library. It's an obvious place, especially because the quiz acts as a lead magnet.
On top of the sidebar
Of all the forms, popups and CTAs on my site, my blog sidebar brings in the least subscribers but not to use the space would be a waste.
Above the fold and in the footer
The first thing you saw when you landed on this blog post was an above-the-fold CTA to take my Pinterest Personality quiz, right (December 2019 update – this is no longer the case but my point still stands)? When someone who is looking for information about Pinterest lands here, it will be very tempting to take the quiz.
When someone has reached the end of the blog post or the bottom of a page it means they're interested in what I have to offer and are already more engaged than most of my visitors. Great place to put an opt-in!
Landing page
Only have your quiz on the landing page to eliminate distractions. No buttons and secondary information.
Keep an eye on analytics
Once you've published your quiz and promoted it, people will start taking it and subscribing. Interact gives you access to analytics about how your quiz is doing. It's a good idea to keep an eye on your results and make adjustments as needed to improve your quiz.
Analytics gives you an overview of how many times your quiz has been viewed, started, completed, how many times and where people have dropped off, and how many people have joined your list. You also get in-depth data about each question, including the popularity percentage of each answer choice. That's a lot of valuable insight!
Final thoughts and tips
If you made it to the end, you're a trooper! You're now ready to grow your email list with a quiz lead magnet! I hope you got inspired to make your quiz, especially if list building is your priority.
So as you can tell, I'm a fan of Interact (and have a few other quiz ideas in mind that might come to fruition some time). The software is easy to use and intuitive, quizzes are customizable to fit your branding, quiz creating and taking processes are seamless and email marketing integration makes collecting subscribers super easy! If you need more convincing reasons, Interact's paid plan includes giveaways and polls too!
As I mentioned in the beginning, I expected the brainstorming and content creation part to be a bit problematic but it was actually easy. The key is to plan beforehand. Take the time to come up with quiz ideas and develop questions, answers, and results.
Here are a few other tips to make the most of your quiz-making journey.
Use images. Besides making answers short and precise, use images to catch the eye and engage. People tend to prefer images over text so make sure your images are connected to the answer in some way.
Make sure your quiz landing page minimal. Every extra element on your landing page is a distraction that might make a visitor click away from the quiz.
Map out a funnel. As a service-based business, your end goal is to convert subscribers to clients. What happens after the quiz? Do they click away? Do you send them to your website? Will they get a sequence of emails? Will you offer another free resource that solves a problem to some extent but leaves them longing for the full solution (your service)? At what point are they introduced to your offers? Think it through.
Enable opt-in skipping. I strongly recommend letting quiz takers decide whether they want the extra value or not. Although you're making the quiz to build your list, you should focus on gaining engaged subscribers who appreciate what you have to say.
Plan an automated sequence of emails to deliver value to your new subscriber. What happens after they take your quiz and get the result? If you don't follow up, they'll forget about it and move on. Sending personalized tips gives them valuable information they likely need, will help establish you as the expert and build the know-like-trust factor.
Now it's your turn to make an Interact quiz!
Before you go, save this post for later!